Company Information
Company Mission Statement
Company Mission Statement
Self
creation
Create
on our own
Self-support,
reliance and confidence
Let's independent and grow in ourselves and company so that we (our company) can be relied on by in society. Consequently, we can contribute to society and be confident in ourselves. To create yourself is most important thing in working.
Happiness
creation
To be happy not only
in you but together with others.
Happiness, good,
altruism
Everyone must desire to be happy. However, why it is so hard? Because, we may seek for desires one after another and have always minds to compare our positions with others, which may bring unhappiness. "Happiness" and "Unhappiness" may be born in your mind. Taking good actions and respecting others' benefits. They should be the shortest way to be happy. Let's be "Happy" through "Working".
Making
your dream
Realize
your dream
Faith, passion,
continuation
One of the way to realize your dream is sustaining the "dream" until it can be realized. If you have passion and principle to keep on trying to do it, the "dream" can be realized. The important point is unifying your self-actualization (your dream) into vectors the company is targeting towards (The company's dream) through working.
Gratitude
(grateful for anything you may have, live cool and sophisticatedly)
Happiness can be accompanied with a heart which can appreciate everything be led to be modest.
That is a tip to let people happy and company sustainable.
Basic management principle
We shall realize good for society, delight customers, work for confidence and seek for benefit to sustain the company so that lives of the employees can be improved more and more and they can keep on having prides and dreams, which consequently they can enhance their personalities. That is what we are meant to exist here.
Hatachi Philosophy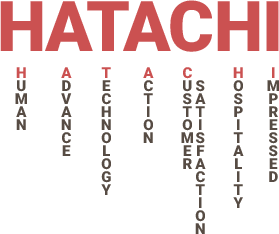 Human to be focused on
Company = people and organization
Human resources is vital. We foster humans and let them grow up.
We synchronize both growth of company and human
Any educational programs shall be provided by company so as to assist the employees' growths.
Frameworks (system) to let individual capabilities and organizations total powers exert to the maximum
Company exists for employees who work hard (the raison d'etre of the company)
×
Advance
Do not stop but always look ahead to be advanced
Preempt next trend and develop new business which leads others.
Try to keep on changing company flexibly according to trend or environmental changes in society.
×
Technology
Try to keep on brushing up technology and research new technology
Sustained effort and attempt for new technological development
Try to keep on contributing to society with original and unique technology
Never give up owing to such few troubles but fight it out based on sustainable effort and patience. That is the essence to develop genuine technology
Bright working sites can be realized by technologies and know-how we develop on our own.
×
Action
Be initiative and example anyway. Do what you have decided right away (Slow reaction can make great loss).
Don't be critic but real concrete executor (Critic is never requested).
"No action, no big failure either". That must be the biggest risk.
Action is good anyway even if it goes fail. On the contrary, no action can be evaluated evil anyway.
×
C CUSTOMER
SATISFACTION
Customer
Satisfaction
Customer Satisfaction
Customer satisfaction. That is our priority to anything else
Customers should go away whenever we may take ourselves prior to them. Customer satisfaction should be barometer to be turnover.
Our target is getting much more expectation beyond whatever customers do (to be grown accompanied with customers)
×
H HOSPITALITY
Hospitality
Hospitality
Kindness, smile, solicitude, receptiveness, consideration, harmony and cooperation → Families, colleagues, elders, subordinates, next process and customers
Technique (Hard) + HOSPITALITY (Soft) = Product appeal and quality capability → Trust
×
Impression
Let's go on work to make us excited over
Let's work to be creative and innovative
Sensitivity which can appreciate and be moved even for trivial things, pure heart and humbleness
×